Robert Jenrick tells that although the worldwide forces that have driven up prices and exacerbated the cost of living crisis are beginning to subside, big rises in public sector pay will "entrench inflation."
A government minister has urged the public sector not to engage in more strikes, stating that doing so would be "economic self-harm."
Robert Jenrick stated that international factors are "beginning to cautiously move correctly" as energy and gasoline costs begin to decline.
However, he stated that it would be "the worst thing that we could do" if the government acceded to the demands of trade unions to increase pay by double digits, claiming that it would "entrench inflation in the British economy and lead to a wage spiral that would be extremely damaging to the economy."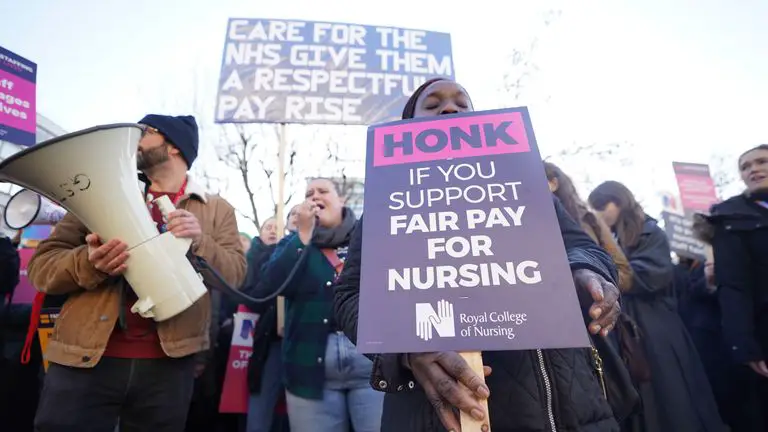 The minister's comments come as tens of thousands of nurses in England stage their latest walkout in an increasingly acrimonious dispute with the government.
The Royal College of Nursing continues to push for a 5%-above-inflation pay increase. Though it has hinted it will accept a smaller offer. Nursing employees from more than 55 NHS trusts will participate in industrial action today. And two further strikes will be conducted next month.
Pat Cullen, the head of the union, stated, "People are not dying because nurses are on strike. The nurses are on strike because patients are dying."
Minister says more strikes would be "self-harm" and hurt economy.
Thousands of Environment Agency employees in England, including river inspectors, flood forecasting officers, coastal risk management officers, sewage plant attendants, and staff at the Thames Barrier, are also participating in industrial action today.
Mr. Jenrick spoke with Ms. Burley as the most recent inflation data for the United Kingdom were released. Showing a tiny decrease from 10.7% in November to 10.5%.
He stated, "We want to be as reasonable as possible". "[Health Secretary] Steve Barclay and other ministers met with union leaders to discuss potential avenues for discussing next year's pay settlement and to make arguments on affordability."
When asked what message he would send to public sector unions regarding more strike action, the minister responded. "Think about the impact that will have on working people across the country and the economy.
"We are aware that times are challenging. We do not want to see the economy affected by an act of self-harm, by further strike action that makes it more difficult to get to work, cross the border, and, of course, access vital public services."
Ms. Cullen, however, stated, "We can either focus solely on balancing the books. Or we can continue to respect and treat the NHS as it should be for every patient across the country.
"We must deal with the situation in the NHS. Only by giving nurses a fair wage and filling the 47,000 empty positions in the health sector would this be possible, according to the nurses.
Total number of scheduled strikes to three
Teachers, railway conductors, and civil servants have planned coordinated industrial action for February 1st. Bringing the total number of scheduled strikes to three.
Later today, officials from the Unite union will meet to decide whether to call for more strikes among ambulance workers in England, Wales, and Northern Ireland.
Mick Wheelan, the general secretary of Aslef, which represents train drivers, indicated that his union was further from a resolution than ever before due to "the behaviours of the other side's bargaining team."
"I've been negotiating at all levels in this sector for roughly 38 years. And I've never been in a process where people are being so underhanded and dishonest," he told.
Mr. Wheelan insisted that his union was still open to additional negotiations to find a solution. But he criticized the government's efforts to pass anti-strike legislation and portray unions as the enemy.
He said, "We have a government that is failing the public because whenever they discuss trade unions. They treat workers and the public as if they are two separate groups."
"The voters of this country are the individuals who go to work in these fields every day and are dissatisfied in so many areas at once. This indicates that the government's policy is flawed."
Emily Thornberry of the Labour Party described the present striking situation as a "mess". And accused the administration of delaying discussions "to the very last minute."
"They were posturing for such a long time, claiming they were going to be difficult. They weren't going to engage, and they weren't prepared to compromise," the shadow attorney general said. And now they claim to be.
"However, I believe that individuals have now dug themselves into distinct trenches from which it is quite difficult to escape."