The late chef Alastair Little stated of a soup that is customarily made with leftover minestrone and stale bread, "much-convoluted rubbish is spoken about this Tuscan soup." As with so many zero-waste dishes, it is unwise to be very prescriptive, but if you wish to cook ribollita (meaning "boiled over") from scratch, the following suggestions may be useful.
The vegetables
Similar to numerous other Italian meals, ribollita begins with a soffrito of fried carrot, celery, and onion (Katie Caldesi uses a red onion as well as yellow in her Italian Cookery Course, which gives her soup a pleasant sweetness). It also contains a substantial amount of greens; cavolo nero would be my first option due to its robust flavor and texture, but if you have another variety of cabbage, chard, or other green, simply adjust the cooking time appropriately.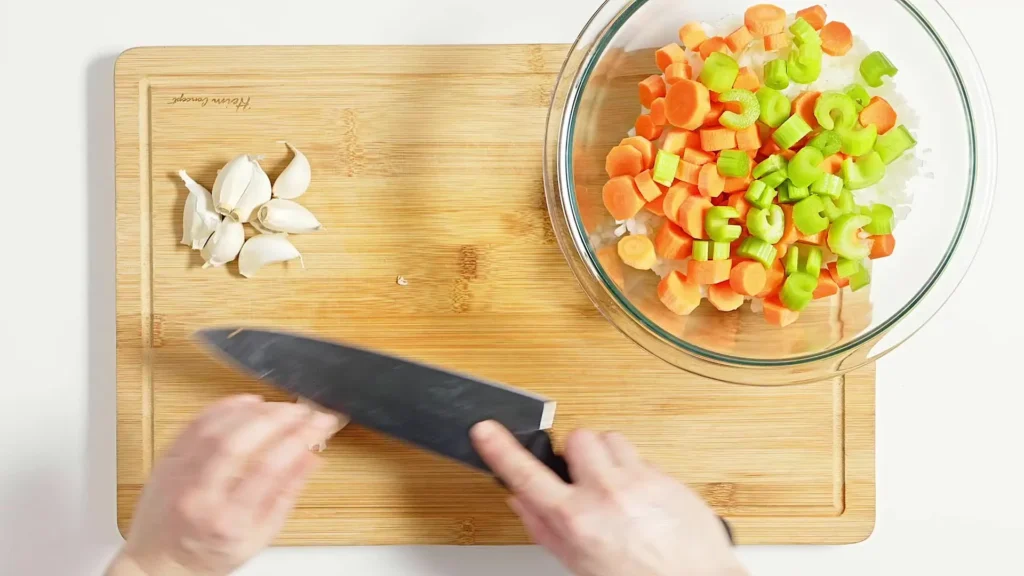 I particularly enjoy the silkiness of Caldesi's leek and have added seasonal chopped squash, but feel free to use whichever ingredients need a home.
The fragrances
As suggested by Lori De Mori in Beaneaters & Bread Soup, add garlic to the beans as they cook. Though my tasters and I are unable to taste Alvaro Maccioni's root ginger, we adore Angela Hartnett's fennel seeds and chili; however, herbs such as thyme, rosemary, and sage are all excellent additions.
The flour
Common in ribollita are cannellini beans, but any bean will suffice. Add a strip of kombu while cooking them from dry to make them more digestible. De Mori and Maccioni purée some of the beans and combine them with the required bread to thicken the soup.
Caldesi and De Mori both bake their ribollitas, but I'm going to grill the top of mine so I don't have to preheat the oven for too long.
The adjuncts
Add stock or a splash of red wine, as recommended by James Ramsden in his new book Every Last Crumb. In soup, Parmesan rinds (or those of any hard cheese) are rarely a bad choice, and adding sausages, as Valentina Harris suggests in her Italian Regional Cookbook, will help stretch a small amount of meat very far. Which is precisely what ribollita is about.
Perfect ribollita
Prep 20 min
Cook for 2 hr, plus optional soaking
Serves 4-6
200g dried cannellini beans (or other beans), or 400g cooked tinned beans (net weight)
2 garlic cloves, peeled and squashed
2 bay leaves (optional)
1 strip kombu (optional, or soak the beans before cooking)
2 tbsp olive oil
1 smallish onion, peeled and finely chopped
1 smallish red onion, peeled and finely chopped
2 carrots, trimmed and finely chopped
2 sticks celery, trimmed and finely chopped
Salt and black pepper
¼ tsp fennel seeds (optional)
¼ tsp chili flakes (optional)
1 large leek, washed and thickly sliced
200g winter squash, peeled, seeded, and cut into rough 1cm chunks
250g cavolo nero, or the outer leaves of savoy cabbage, or other greens, shredded
1 x 400g tin chopped tomatoes
1 parmesan rind (or similar hard cheese rind; optional)
200g stale bread, torn into chunks
Extra-virgin olive oil, to serve
Grated cheese, to serve
2 spring onions, trimmed and sliced into long strips, to serve (optional)
If using dry beans, place them in a big saucepan, cover them with ample amounts of cold water, and add the garlic, bay leaf, and kombu.
Bring to a boil, then simmer for one to one and a half hours, until tender. Set aside half of the beans, and dispose of the bay leaf and kombu.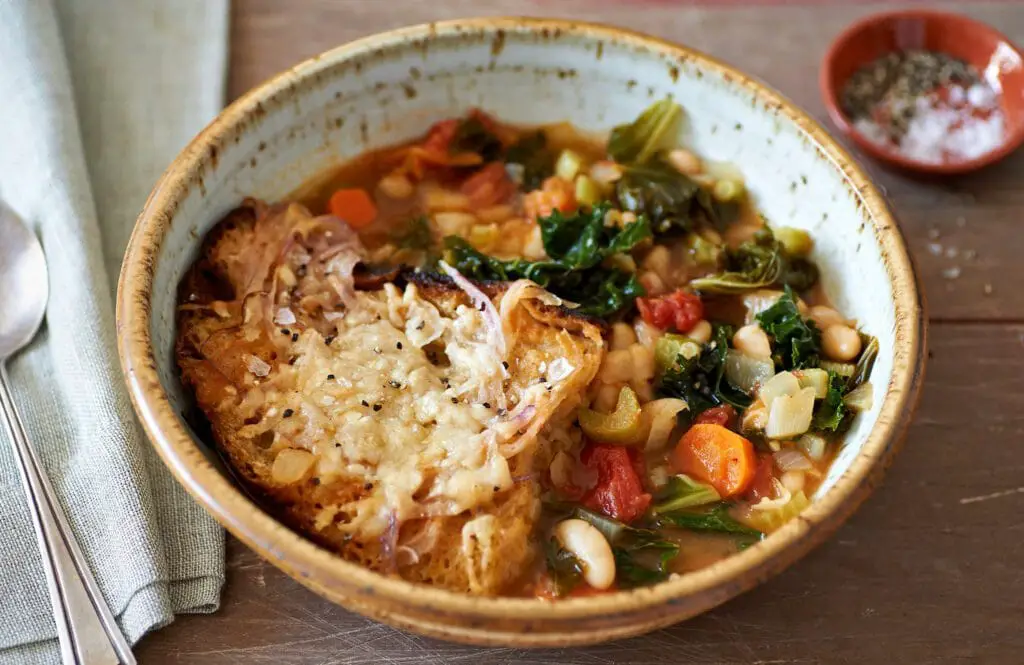 Puree the leftover beans with enough of their cooking liquid to create a thin, loose puree, if necessary add additional liquid or fresh water. (If using canned beans, remove half, then blend the remainder with the can's liquid.)
Place the oil in a large pan over medium heat, then sauté the onions for six or seven minutes, stirring frequently, until they have softened. Add the carrot, celery, and a pinch of salt, and simmer for around five minutes more, until the vegetables are tender. If using canned beans, mince the garlic and add it to the pan along with the beans.
Toss in the fennel seeds and chili flakes, if using, cook for one minute, then add the leek, squash, and kale, stir well, cover, and cook until limp, stirring regularly.
Add the tomatoes, pureed beans, and cheese rind, adding 150-250ml water (or stock) based on the consistency of the puree and the desired consistency of the ribollita.
Re-cover and simmer for around 40 minutes, or until the vegetables are cooked to your liking.
Add the remaining beans and bread, heat until the bread is soft, and then season the soup to taste. Drizzle with extra-virgin olive oil and grill over a hot flame until the top is crisp, or serve as is. If desired, top with shredded cheese and spring onion.
Does ribollita represent the pinnacle of zero-waste soups, or do you have a better suggestion? And, if you are a fan, how do you prefer it: baked or simmered, tomato-rich or tomato-free… And is it truly ribollita if Tuscan bread is not included?