As they celebrated his 68th birthday, Emma Heming Willis, the wife of actor Bruce Willis, expressed her "grief and sadness" over her husband's dementia.
"As you can see by my puffy eyes, I began the day by crying," she said in an Instagram video.
"It's crucial that you see all sides of this," she said, raising awareness of his condition.
In February, Willis was diagnosed with frontotemporal dementia.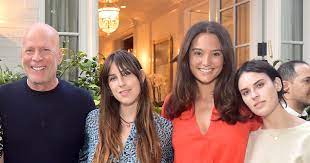 The previous year, he was diagnosed with aphasia, which causes speech difficulties.
His family reported last year that he had given up acting due to cognitive impairment caused by his condition.
Diagnosis of dementia affects the actor's diction, behavior, and ability to plan. No treatment or intervention can halt the progression, so his symptoms will continue to deteriorate.
In her post, Heming Willis described the sense of loss she experiences while caring for her spouse.
"I always receive this message in which people tell me, 'Oh, you're so powerful. She stated, "I don't know how you do it."
"I am given no option. I wish I were, but I'm also rearing two children in this situation.
"Sometimes in life, we have to put on our big girl pants and get to work, and I'm doing just that. But I do experience sadness and grief every day, and I'm experiencing it acutely on his birthday."
She is going public with her experiences because she and her family are grateful for the "warmth and love" of their fans, she said.
I do it for you because I know how much you adore my spouse.
In an additional post containing footage of Willis playing with their children, she referred to her spouse as "pure love."
Demi Moore, Willis's ex-wife, was also present at his birthday celebrations. Together, she and Willis have three daughters.
She shared a video of him singing with his family as they wished him a happy birthday and presented him with a birthday cake.
He was observed beaming and participating in the festivities, as well as stumbling after blowing out his candles.
Moore stated, "I'm so pleased we could honor you today. We adore you and our family. Thank you to everyone for their good wishes and affection; we all feel them."
In the 1980s and 1990s, Willis became a household name after starring in the blockbuster films Die Hard, The Sixth Sense, Armageddon, and Pulp Fiction, as well as the successful television series Moonlighting.
In addition, he has been nominated for five Golden Globes, winning one for Moonlighting, as well as three Emmys, winning two.