The United Nations reports that several women "raised allegations of forced birth control" and that it has spoken with women who "said they were forced to undergo abortions."
China's treatment of its Uyghur population "may constitute crimes against humanity," according to the United Nations Office for human rights.
It found evidence of forced abortions and sterilizations among women, it added.
"Serious allegations of human rights violations against Uyghurs and other predominantly Muslim communities" were brought to the attention of the Office of the UN High Commissioner for Human Rights (OHCHR) in late 2017, following a series of reports by activists and the media.
A tribunal found China guilty of committing genocide against the Uyghur people and other minorities in Xinjiang in December of 2017.
The United Nations stated that its report was "based on a thorough review of currently available documentary material."
"The extent of arbitrary and discriminatory detention of members of Uyghur and other predominantly Muslim groups, under law and policy, in the context of restrictions and deprivation of fundamental rights enjoyed individually and collectively, may constitute international crimes, in particular crimes against humanity," the report stated.
In a 131-page response, China has categorically denied any wrongdoing in Xinjiang, including US claims of genocide.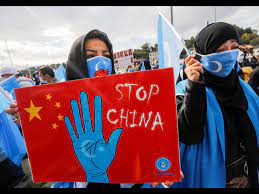 The lengthy UN report mentions "violations of the family planning policy."
Several women interviewed by OHCHR raised allegations of forced birth control, specifically forced IUD placements and possible forced sterilizations of Uyghur and ethnic Kazakh women.
It includes: "Some women mentioned the possibility of severe punishments, such as 'internment' or 'incarceration,' for violations of the family planning policy.
"After reaching the maximum number of children permitted by the family planning policy, the OHCHR interviewed some women who claimed they were coerced into having abortions or IUDs inserted.
Although few in number, these firsthand accounts are considered credible.
The OHCHR has turned into a thug.
The spokesperson for China's foreign ministry, Wang Wenbin, described the report as "completely illegal and invalid."
During repeated questioning during a media briefing, he stated, "This confirms once again that the OHCHR has become a thug and collaborator of the United States and the West."
Liu Yuyin, the spokesperson for China's UN mission, stated in a statement that the "so-called 'assessment,' based on a presumption of guilt, uses disinformation and lies fabricated by anti-China forces as its primary sources, deliberately ignoring authoritative information and objective materials provided by the Chinese government, and maliciously distorts China's laws and policies."
He added that "it reveals the deep-seated bias against and ignorance of China among some OHCHR staff members" and "is a sham orchestrated by some Western nations and anti-China forces."
"Deplore atrocities not designated as genocide."
Dilxat Raxit of the World Uyghur Congress, a worldwide organization comprised of exiled Uyghur groups, stated that the study supported the "strong evidence of crimes" committed against Uyghurs, although he wished it had gone farther.
He told Reuters, "I regret that the UN Office of the High Commissioner for Human Rights did not label these atrocities as genocide."
The UN stated that its evaluation was based on China's international human rights duties.
China is a state party to several international treaties, including the Convention on the Elimination of All Forms of Racial Discrimination.